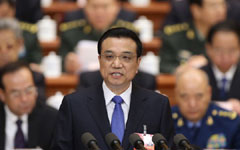 Job creation is main focus of stimulus, Li says
Hiring is increasing in the second quarter of this year as uncertainty over China's economy increases and the central government focuses on growth driven by the service sector.
About 19 percent of Chinese firms will increase headcount in the April-June period, a survey of 4,279 companies by global employment agency ManpowerGroup showed. That's up from 14 percent in the Milwaukee, Wisconsin-headquartered company's previous quarterly report.
Hiring potential is strongest in China's southern Guangdong province, where 21 percent of employers in Guangzhou anticipate a favorable climate for taking on new staff. In Shenzhen, the figure was 20 percent, Manpower said.
Nasdaq-listed recruiter Hudson Global Inc also found hiring demand reviving in the second quarter, combined with some cyclical changes. The automotive, medical and consumer goods sectors have shown their usual demand, Cherol Cheuk, general manager of Hudson Shanghai, said. He highlighted one more industry.
"E-finance is another sector which promises great potential," Cheuk said. "Although the increase is not that significant for the time being, it is for sure that demand will be huge based on the current development pace of China's e-commerce industry."
That chimes with findings from London-based global recruiter Hays Plc's latest quarterly report.
"We are already seeing healthy demand for professionals in China's financial sector," Simon Lance, Hays' regional director in China, said. "Central bank Governor Zhou Xiaochuan promises further liberalization of the sector in the years ahead, and this bodes well for job creation."
Lance said he expects liberalization to increase demand for tax experts. "Tax policies often change and need to be interpreted by professionals," he said. "Most multinational companies have already hired tax specialists to communicate with the authorities in order to minimize tax risk and reduce unnecessary tax payments. There is currently a shortage of tax specialists, and we see this continuing."
Regulations on internal audits and foreign banks in China have become stricter,and the country is moving toward a fully market-based system of interest rates, Lance said. The result is banks-starting to focus more on their transaction business and away from interest-rate differentials-will hire more product auditors and qualified transaction sales managers will be highly sought after, he said.
China is establishing five private banks on a trial basis in the cities of Tianjin and Shanghai, as well as in Zhejiang and Guangdong provinces. There will soon be more demand for private-sector banking talent, Lance said.
The job market generally has regained momentum in the past few months, and people's attitude toward changing jobs is more optimistic in lower-tier cities than first-tier cities. Those looking for a role change in second-and third-tier cities normally expect a 20 to 30 percent salary increase. People with language and leadership skills or with solid experience behind them could get a up to 35 percent rise.
Source: China Daily
2014-05-09